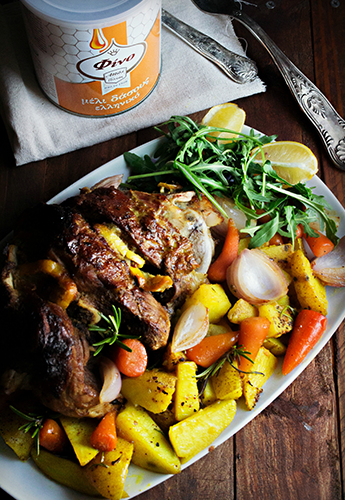 Tender roast lamb with FINO forest honey
Type: Main dish
Ready in: 130 minutes
Quantity: serves 4-5
Ingredients:
For the lamb
1500 g leg of lamb
3 tablespoons mild mustard
2 tablespoons FINO forest honey
2 tablespoons olive oil
½ teaspoon rosemary
1 crushed garlic clove
¼ teaspoon oregano
¼ teaspoon turmeric, optional
¼ teaspoon sweet red pepper
coarsely ground peppercorns
1 lemon
salt
vegetables as side dish (potatoes and baby carrots, onion, turnips, bulbs)
Directions
Buy a leg of lamb and ask your butcher to "break it". In a bowl mix the FINO forest honey, olive oil, mustard, spices and garlic and spread on the lamb. Insert fresh lemon slices in its openings. Wrap the lamb in parchment paper, closing all the vegetables inside, and cover with aluminum foil. Put in a pan and bake in a preheated oven at 200°C, for 30 minutes and then lower the temperature to 175°C and bake for another 1 hour and 30 minutes. Serve the lamb on a platter with the vegetables and accompany with fresh salad.
Tips:
If you want, collect the juices from the baking pan, put them through a sieve and then boil slowly in a non-stick saucepan until they thicken into a sauce and serve with the lamb.
If you don't prefer some of the spices replace with others of your liking.