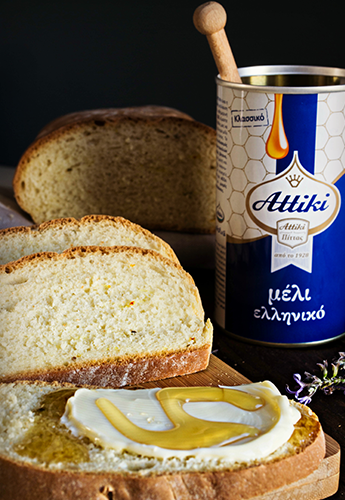 Home-made bread with herbs and ATTIKI honey
Type: Bread
Ready in: 60 minutes
Quantity: serves 10
Ingredients:
For the dough
350 g all purpose flour
175 ml lukewarm water
6 g instant yeast
2 teaspoons ATTIKI honey
½ teaspoon salt
5 tablespoons olive oil
1 sprig of chopped fresh rosemary
¼ teaspoon anise seed
½ teaspoon ground mahleb
Directions 
Put the flour, yeast, honey and salt in the mixer bowl and start mixing, adding the lukewarm water, chopped rosemary, mahleb, anise seed and olive oil. Knead for 4-5 minutes, then transfer the dough into a greased bowl and cover with cling film. Let the dough rest for 1 hour. Shape into a loaf and bake in a preheated oven at 200°C, for 40-45 minutes, depending on the size.
Tips:
You can add your favourite herbs to the bread, to compliment the meal you will serve it with.
You can also add pine nuts or sunflower seeds or sprinkle with sesame.