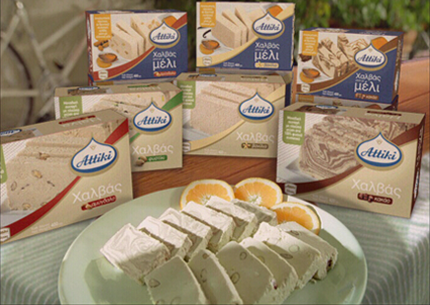 TRY THE DELICIOUS TASTE OF ATTIKI HALVA!
Lent is here again, so it's time to enjoy ATTIKI halva!
Handmade to a traditional recipe, ATTIKI halva has a rich taste and light texture that is irresistible to young and old alike.
Rich in nutrients, it improves health and well-being, making it the number one choice not just for Lent but all year round.
Enjoy it as a dessert or snack, flavoured with vanilla or cocoa, or with almonds or pistachios. Also try unique ATTIKI halva with Greek honey in three flavours (cocoa, almond and vanilla), made exclusively from guaranteed ATTIKI Greek honey, which gives it its wonderful aroma.
ATTIKI halva
is made with Greek honey, which is a unique natural sweetener, and tahini from only the best sesame seeds
contains substances that have a significant antioxidant effect for the body, helps reduce cholesterol (thanks to its high percentage of unsaturated fatty acids), and ensures that the bowel and the liver function properly
is a guilt-free way of satisfying a sweet tooth!
For more information:
https://www.facebook.com/AttikiHoneyInternational/