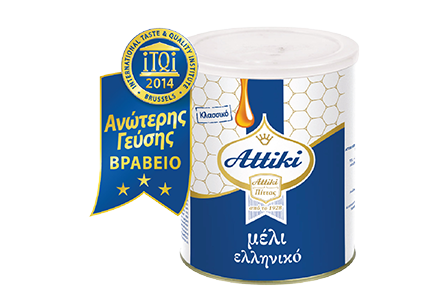 THIS YEAR, FOR THE THIRD TIME, GREEK HONEY RECEIVES THE HIGHEST THREE STAR INTERNATIONAL iTQi AWARD
The exceptional taste and unique quality of ATTIKI Greek honey has once again been rewarded by the International Taste & Quality Institute (iTQi), which handed out its most recent awards in Brussels on 5 June 2014.
ATTIKI Greek honey was awarded three stars, confirming the high quality specifications and superior taste of products from ATTIKI – PITTAS, which has been collecting, selecting and packaging the finest quality Greek honey since 1928.
The International Taste & Quality Institute (iTQi) is the leading independent organisation for chefs and is based in Brussels. Its aim is to test and promote food and drink with superior taste and quality from all over the world. Its judges come from the 13 most prestigious European culinary associations, such as Maitres Cuisiniers of France and Belgium, Academy of Culinary Arts, Hellenic Chefs Association, Academie Culinaire of France and Verband der Kuche Deutschlands.
The Superior Taste Award is a unique international recognition awarded after a blind tasting by chefs who are opinion leaders and experts in taste.
The three-star iTQI Superior Taste Award for ATTIKI Greek honey rewards our constant effort to offer our consumers the finest, 100% natural, superior-tasting honey.
For more information: