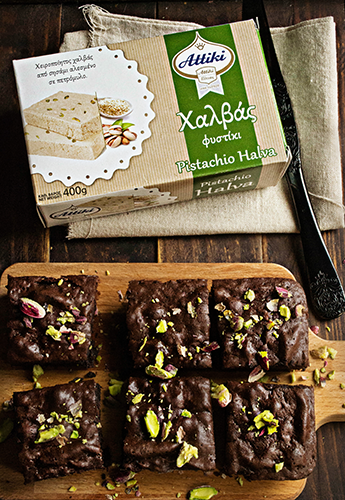 Brownies with ATTIKI halva with pistachios
Type: Dessert
Ready in: 40 minutes
Quantity: serves 6
Ingredients:
4 eggs
170 g brown sugar
100 g butter
70 g unsweetened cocoa
50 g all purpose flour
1 teaspoon vanilla extract or essence
¼ teaspoon salt
100 g ATTIKI halva with pistachios
Directions        
Heat the butter over low heat until it melts.
Whisk the eggs with the sugar for a few minutes, add the sifted cocoa, vanilla, salt, butter and mix until well-blended.
Crumble the ATTIKI halva with pistachios and add it to the dough.
Put in an oven-proof 30 cm pan, and bake in a well preheated oven at 175°C, for 35-40 minutes.
After taking out of the oven, you can sprinkle with coarsely chopped pistachios. Let the brownies cool down for a few minutes and cut in pieces.