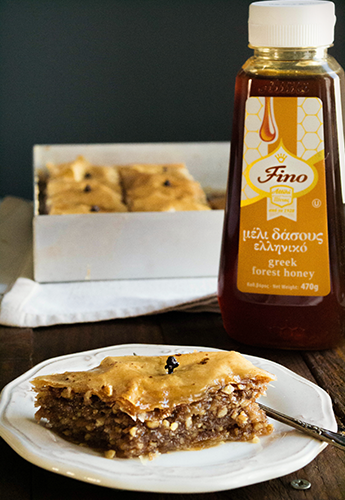 Baklava with FINO forest honey
Type: Holiday dessert
Preparation time: 30 minutes
Baking time: 50-60 minutes
Ready in: 5 hours
Quantity: 20-25 pieces
Ingredients:
For the baklava
500 g filo pastry "Viritou"
450 g chopped walnuts
140 g breadcrumbs
60 g sugar
1 ½ tablespoons cinnamon
½ teaspoon ground clove
1 teaspoon vanilla extract or essence
280 ml vegetable oil
80 ml butter
cloves
For the syrup
470 g FINO Forest Honey
50 ml water
1 cinnamon stick
half a lemon
Directions          
Preheat the oven to 170 degrees Celsius. In a bowl mix the walnuts, breadcrumbs, spices and sugar. Melt the butter in a saucepan. Use a medium-sized pan. Keep aside 4 filo sheets for the last layer, and start by laying 5 sheets in the pan, buttering each one well and sprinkle the filling on the entire surface, then cover with a sheet which is folded in half. Continue by alternating filling with folded sheet until you have used up the ingredients. Cover with the 4 sheets you kept aside, buttering each one, fold the ends and score into diamond-shaped pieces. Stick one clove on each piece. Heat the vegetable oil and pour over the baklava. Bake at 180°C for approximately 50 minutes. While the baklava is baking, prepare the syrup by boiling the ingredients for a few minutes. Once the hot baklava is out of the oven pour the syrup on it, one spoonful at a time. Let it stand for 4-5 hours for the baklava to "set" and serve.
Tips:
Apart from walnuts, you can also used finely chopped unblanched almonds, pistachios and sesame, in similar quantities.
You can replace the vegetable oil with butter or olive oil.