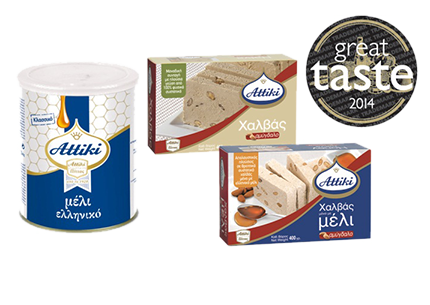 NEW HONOUR FOR ATTIKI PRODUCTS AT THE 2014 GREAT TASTE AWARDS
Once again, ATTIKI – PITTAS products have proved worthy representatives of quality Greek food, having won three major prizes at the 2014 Great Taste Awards run by the Guild of Fine Food in London.
The quality of Attiki's products has been recognised internationally for another year in a competition that constitutes a reliable system for certifying the quality of food and drink, with more than 400 judges.
The company's award-winners were Greek Attiki honey, Attiki halva with almonds and Attiki halva with Greek honey and almonds.
George Pittas, the company's CEO, singled out some of the judges' comments on the award-winning products: "Tasty, pure, golden honey with a subtle floral aroma, a clean taste sensation and a lasting, mild aftertaste." "Interesting texture and nicely toasted nuts, a good example of what halva should be like." He also said that such awards are just reward for the efforts of the company's employees, who "make us try even harder for our products and the consumers who put their faith in us".
ATTIKI – PITTAS has a presence of more than 85 years in the Greek market and exports its products to more than 35 countries around the world.
For more information: