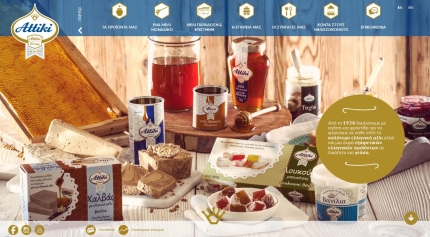 NEW CORPORATE WEBSITE FOR ATTIKI-PITTAS!
As part of an upgrade of its online image, the Greek company ATTIKI-PITTAS, has undertaken a full redesign of its corporate website www.attiki-pittas.gr, with the aim of making it easier for users to navigate and find information from all mobile and fixed devices.
The company's new website, with its updated image and content, is a modern and at the same time useful tool that takes the user through a succession of striking images.
Visitors will have the opportunity to learn about the history of the company and its range of products, the quality control procedures that are followed at every stage of production, its export activity and the prizes and awards it has received. They will also be able to find useful tips and information about Greek honey and delicious recipes, both traditional and brand-new, put together by "Funky Cook" food blogger Eva Monohari.
At the same time, the company's main concern is always to support its partners, the beekeepers, which is why it has also created a special section with information from the company's Department of Apiculture Development.  A detailed weather forecast for all Greece will also be regularly updated in a special subsection.
Visit www.attiki-pittas.gr yourself, and navigate the ATTIKI-PITTAS world of honey designed and developed by Magnet advertising.
For more information, visit: