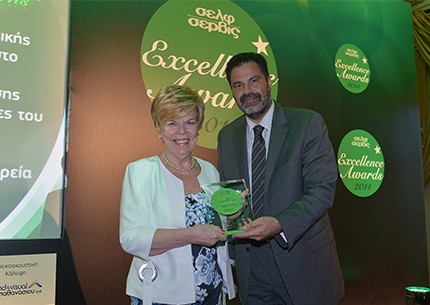 NEW AWARD FOR ATTIKI-PITTAS AT THE 2014 SELF SERVICE EXCELLENCE AWARDS
ATTIKI – PITTAS claimed a new accolade at the 2014 Self Service Excellence Awards held on Tuesday 15 July at the Grande Bretagne hotel in the presence of a host of representatives from the business community.
The company was awarded in the Investment Activity category for its relocation to its new facilities in Kryoneri. The award was received by Alexandra Pitta-Chazapi, CEO of ATTIKI – PITTAS.
The company's new unit meets the modern production needs of high-level services and products, and will strengthen the confidence of Greek beekeepers that they can continue to rely on and invest in professional beekeeping, which has unlimited potential and possibilities, while shoppers can continue to have trust the company's Greek honey.
The award has special significance for ATTIKI – PITTAS at this time, because it recognises the investment that the company has made. With its responsible and innovative approach, ATTIKI – PITTAS continues to ensure the best conditions in which to bring consumers pure, high-quality Attiki products.
For more information: