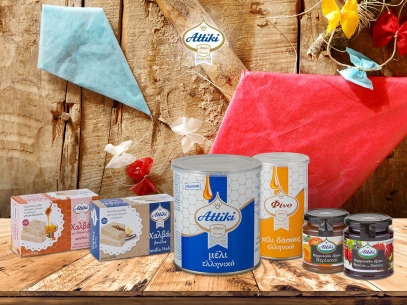 For Lent choose ATTIKI products!
During the days of Lent, the most delicious treats have traditionally been Greek products from ATTIKI-PITTAS! An extensive range of products, including Greek honey, halva and jams ATTIKI, give you plenty of choices, with guaranteed quality and unique flavours.
Greek honey from ATTIKI-PITTAS, carefully selected from the finest varieties of honey from all over Greece, is rich in nutrients and has a unique taste.  Collected by 2000 Greek beekeepers, reaches your table in its most pure and natural state, as it left the beehive.
ATTIKI Halva, handmade to a traditional recipe is made from top quality stone-ground sesame, has a light texture and a wonderful taste. It comes in two different versions: ATTIKI classic Halva, in vanilla, cocoa, with pistachio and with almond flavours, and ATTIKI Halva made exclusively with Greek honey, containing no sugar, in vanilla, cocoa and with almond flavours.
Finally, ATTIKI "extra" jams, made to a traditional recipe without any preservatives, are made of more than 50% flavourful, natural fruits. With their richly fruity aroma, they are available in eight unique flavours, bringing a great taste to your breakfast as well as to your recipes.
Whichever you choose, they are nutritionally rich, delicious and healthy, and come with the ATTIKI-PITTAS's guarantee of quality and care.
Find ATTIKI products in the supermarkets.
You can also visit our official Facebook page:
www.facebook.com/AttikiHoneyInternational/