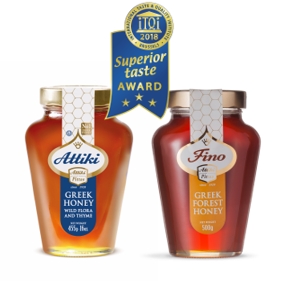 ATTIKI-PITTAS and its all-star products!
The International Taste & Quality Institute (iTQi) has once again bestowed its Superior Taste Award, one of the world's most important food prizes, on the ATTIKI Bee Culturing Company Alexandros Pittas S.A., this time for ATTIKI Classic Greek Honey, FINO honey, ATTIKH thyme honey from the Greek islands, and ATTIKI Halvas with honey.
The products were evaluated in a blind test by internationally distinguished chefs and sommeliers. This was the fifth time that ATTIKI Greek Honey had received three stars, while also 3 stars were awarded to FINO honey for the fourth time, an award reserved for exceptional products, confirming the high quality specifications and dedication of ATTIKI-PITTAS, a company that has been bringing Mother Nature's most precious gift to Greek families since 1928.
By the same procedure and for the first time, ATTIKI thyme honey from the Greek islands and ATTIKI Halvas with Greek honey (vanilla) received the Superior Taste Award of 2 stars, an award given to remarkable products.
Once again, the unique taste and quality of ATTIKI products have achieved global recognition with international awards, confirming that not only ATTIKI-PITTAS is the largest Greek bee-culturing company in the world, but also has the highest standards.