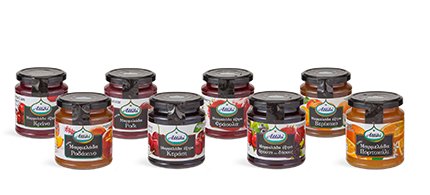 ATTIKI JAM: authentic, traditional and delicious!
For years, ATTIKI-PITTAS has made everyone's mornings extra tasty. And now we're offering even more choice, with eight unique flavours of jam made to a traditional recipe from specially selected fruit. We call them "extra" because more than 50% of their content is pieces of fruit and they have an unbeatable, mouth-watering taste.
Try classic favourites such as strawberry, apricot, cherry, peach and orange marmalade, as well as special new flavours such as forest fruit, pomegranate or Cornelian cherry.
ATTIKI jams are an ideal choice for breakfast, snacks or in desserts.
Visit the new ATTIKI-PITTAS site at www.attiki-pittas.gr and find great recipes using jam and other ATTIKI products.
You can also visit our official Facebook page: www.facebook.com/AttikiHoneyInternational/