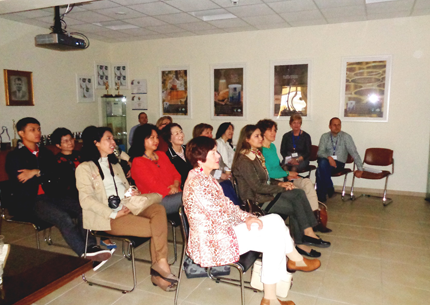 AMBASSADORS' WIVES IMPRESSED BY VISIT TO ATTIKI-PITTAS FACILITIES
It was with great enthusiasm that nine wives of ambassadors of foreign countries in Greece accepted an invitation from ATTIKI-PITTAS to visit the company's facilities in Kryoneri and find out at first hand how the finest Greek honey is produced.
On Tuesday April 21, the ambassadors' wives were welcomed by AΤΤΙΚΙ's President and CEO, Mr. George Pittas and Vice Prestident and CEO Alexandra Pitta-Chazapi. The visitors were given a presentation and a tour, during which they learned about ATTIKI's quality procedures and the values that have guided the company for more than 85 years in its production of the best known quality brands of Greek honey. There were also tastings of varieties of ATTIKI Greek honey and other ATTIKI products, such as jam, loukoumi and halva.
The visitors, from the embassies of Ireland, India, Japan, Indonesia, Thailand, Canada, Montenegro and Pakistan, formed a very positive impression both of the products and of the company itself.
It should be noted that as members of their countries' diplomatic corps, the wives of the ambassadors are in a position to promote Greece's companies and products both in their own countries and worldwide.
For more information:
https://www.facebook.com/AttikiHoneyInternational/