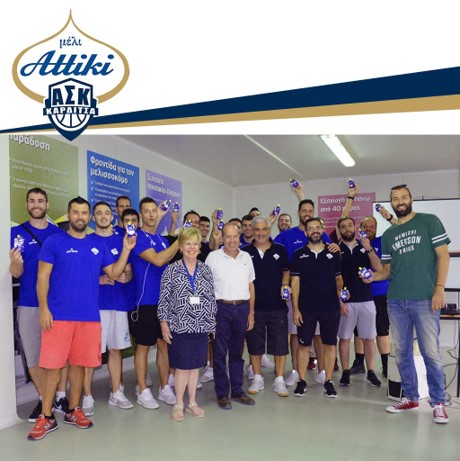 A.SKarditsas basketball team visited Attiki-Pittas
On Monday, August 27th, the basketball team of A2 Ethniki A.S.Karditsas Attiki Honey visited the Attiki – Pittas premises in Kryoneri and had the opportunity to see the production process, the cutting-edge technology and the state-of-the-art laboratories that carry out the quality assurance checks for the creation of the No1 Greek honey.
Management and executives welcomed with enthusiasm the athletes and coaches, and wished them to continue their rising track reaching as high as they can. "We are proud that for the fourth consecutive year we support A.S.Karditsas Attiki Honey, a strong team, which in just four years, managed to climb from the C category of National Championship to A2 category, representing honorably the name Attiki Honey", said Mr. Georgios Pittas, while Mrs Alexandra Pitta – Hazapi wished in her turn even more distinctions in the future and a rising new sports season with energy from the super food – Attiki Honey!
That same afternoon, Mr. G. Pittas and his son had the opportunity to watch at OAKA stadium a friendly match between their favorite team, A.S.Karditsas Attiki Honey and Zhejiang Lions of Yannis Bourousis.