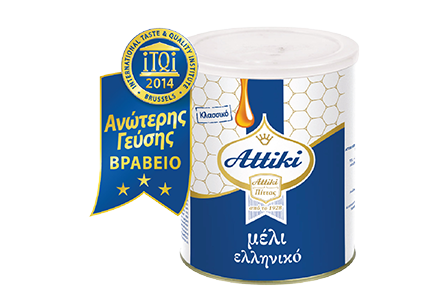 THIS YEAR, FOR THE THIRD TIME, FINO GREEK FOREST HONEY RECEIVES THE HIGHEST THREE STAR INTERNATIONAL iTQi AWARD
Again this year, ATTIKI-PITTAS was recognised in this year's International Taste and Quality Institute contest, winning the Superior Taste Award of three stars for Fino Greek forest honey.
Fino Forest Honey received the highest three-star award for its exceptional quality, and its mild and delicate flavour. Fino Greek Honey comes from a unique combination of high-quality forest honeys from all over Greece. The company previously received an iTQi award in 2009 and 2012, confirming the high quality specifications and superior taste of honey from ATTIKI-PITTAS, the world's best-known Greek bee-culturing honey company, which has been collecting, selecting and packaging the finest quality Greek honey since 1928.
The International Taste & Quality Institute (iTQi) is the leading independent organisation for chefs and is based in Brussels. Its aim is to test and promote food and drink with superior taste and quality from all over the world. Its judges come from the 15 most prestigious international and national chefs' and sommeliers' associations throughout Europe. Every year, through a process of blind tastings, the organisation tests and promotes high-quality food and drink from all over the world.
The three-star iTQI Superior Taste Award for Fino Forest Honey rewards our constant effort to offer our consumers in Greece and all over the world the finest, 100% natural, superior-tasting honey.
For more information: