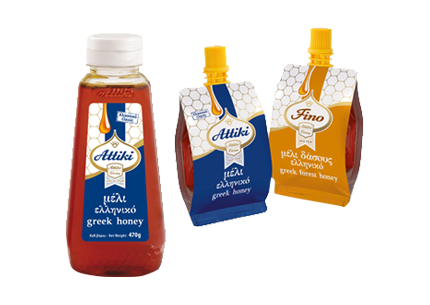 PRACTICAL, MODERN PACKAGINGS FOR ATTIKI GREEK HONEY!
Everyone's favourite ATTIKI Greek Honey is here to give our children something delicious and sweet, filling them with get-up-and-go to help them in their activities. Absolutely pure and natural, it adds flavour to their daily lives and at the same time gives them an immediate energy boost and added strength.
The innovative, practical, modern and award-winning Smartpacks for ATTIKI Greek Honey and FINO Greek Forest Honey lock in all the taste, aroma and nutrition of your favourite Greek honey. These packs are unique because they allow kids to take the healthiest and most nutritious of snacks with them to school, without their bag or books getting ruined. Young and old alike can now make every moment sweeter, wherever they are, without wasting a single drop of nutritional, high-quality honey.
Plus, at any time of the day, use the "Melissaki" PΕΤ pack to prepare a healthy, filling breakfast or nutritious snack for all the family. The innovative PET pack, which has won awards for its pioneering design, has a special silicon spigot to control the flow, so you don't need a spoon or knife and don't lose a drop of great-tasting golden ATTIKI and FINO honey.
And don't forget! ATTIKI Greek Honey and FINO Greek Forest Honey are an essential part of our daily diet, as well as being the secret of our success in the kitchen.
For more information: