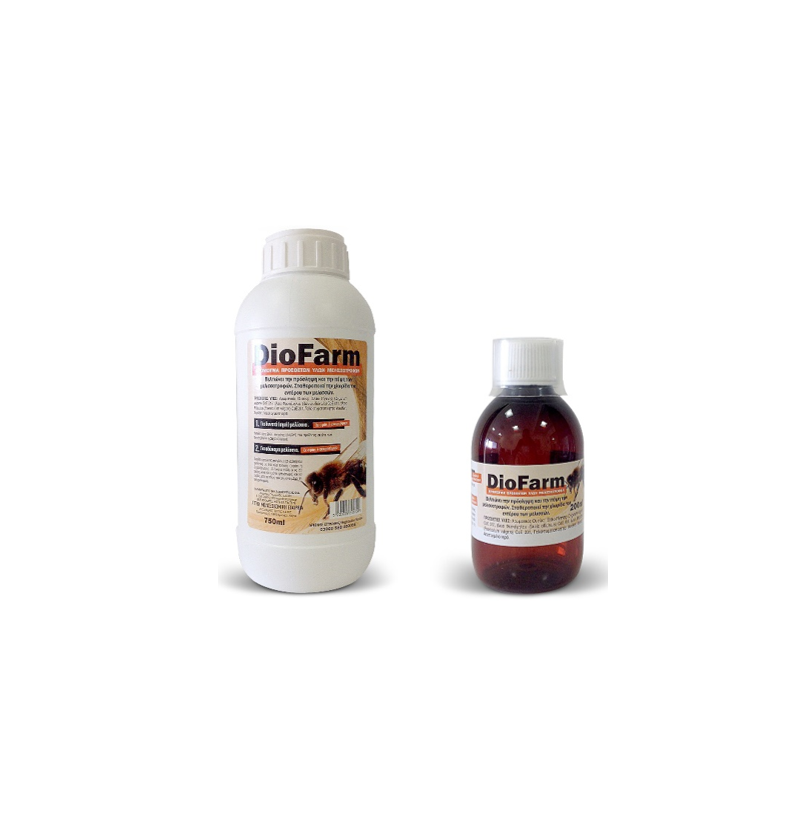 ATTIKI-PITTAS, in the content of improving and further reinforce the beekeeping sector, distributes exclusively the beekeeping products DioFarm and DIO-BEE.
DioFarm
DioFarm is a 100% natural premix of bee feed additives.
The Sericulture and Apiculture Laboratory of the Agricultural University of Athens, after research, confirms that the use of DioFarm:
Improves the natural immunity of the bee colony
Decreases infestation caused by Nosema
Increases the honey production (up to 20%) 
The selling price of DioFarm 200ml  is 12.90 € + 13% VAT final price 14,58€ and of 750ml is 44,60€ + 13% VAT final price 50,40€.
*Instructions for DioFarm use follow in the end of the article
DIO-BEE
DIO-BEE is a syrup concentrate with herbal extracts (lemongrass, spearmint, lemon, geranium and melissa extracts) used for swarm luring.
The selling price of DIO-BEE (box with 10 pieces) is 7,70 € + 24% VAT final price 9,55€.
Additional:
Free shipping, for all over Greece, regardless of the value of your order
Ability for cash on delivery for all over Greece
For orders, with more than 6 items DioFarm 750ml, a free box of DIO-BEE (10 sachets for swarm luring) is offered
10% discount on DioFarm 750ml, for sale and delivery:

Either at our shop in Peristeri (Pavlou Mela 29, hours 08:00-14:00, tel: +30 210 5756663).
Or in our premises in Kryoneri, Αttica (9 Protomagias str., hours 08:00-14:00, tel: +30 210 5711721).
* INSTRUCTIONS for DioFarm:
Α. Added in 1:1 syrup (sugar-water)
To be provided during spring growth or after the honey harvest.  Depending on the size (capacity) of the beehive:
For small beehives (1-5 frames) add 1-1.5ml DioFarm
For larger beehives (>10 frames) add 1.5-2.5ml DioFarm in one litre of 1:1 syrup (sugar-water).
Apply 1 litre of syrup per beehive, once every 5-7 days, 3-4 applications in total (duration 20-30 days).
Β. Added in sugar paste or sugar candy
Add 2 ml DioFarm in 1 kilogram of sugar paste or sugar candy. Give 1 kilogram of bee feed every 15-20 days, from November until March.
Γ. Spraying
Apply after fall harvest or early spring before development of the brood. Prepare a solution of 80-100ml DioFarm in 1 litre of water and 2 tablespoons of sugar (40g). Spray 200ml of the solution per beehive (10 frame), once every 5-7 days, for a period of 20-30 days (3-4 applications).