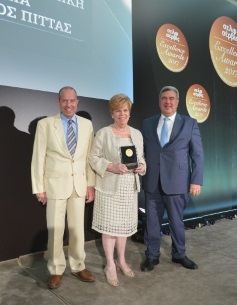 New accolade for ATTIKI-PITTAS
Successful Export Launch Award at the 2017 Self Service Excellence Awards
For yet another year, ATTIKI-PITTAS is among the big winners at the 2017 Self Service Excellence Awards.
The Self Service Excellence Awards highlight the value of entrepreneurial innovation. They reward the most successful and innovative initiatives on the part of companies, supermarkets and suppliers of consumer products, which prove in practice that a creative approach to the challenges of the age can yield significant results.
ATTIKI-PITTAS received the "Successful Export Launch" award for introducing ATTIKI Greek honey to South Korea. The South Korean market has an important place in the strategic planning of the company's export activity, as it is a country that enjoys a high rate of growth and the purchasing power of its population is constantly increasing.
As the company's CEO, Alexandra Pitta-Chazapi, said, "Our company's objective is to look beyond the Greek market, which we care about and value, to grow our exports in countries where we have partners, and to expand into new markets. That is how we decided to target South Korea, and it took a lot of persistence, patience, travel and almost daily communication for the people there to gain confidence in our products, our company and in our country. However, with a great effort we succeeded and we thank you very much for this award."
ATTIKI-PITTAS regularly exports branded Greek honey to more than 37 countries worldwide, and is a foreign ambassador for high quality Greek honey.
You can also visit our official Facebook page:
www.facebook.com/AttikiHoneyInternational/