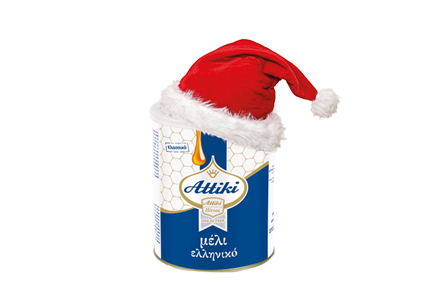 CHRISTMAS WITH ΑΤΤΙΚΙ GREEK HONEY
Christmas just isn't Christmas without honey! Melomakarona, diples, baklava and so many other treats all need honey: ATTIKI Greek honey.
ATTIKI Greek honey, which has been making life sweeter in every home since 1928, arrives at your table carefully selected by Greek beekeepers.
It is everyone's favourite healthy habit, with each spoonful containing all the nutrition you need for energy, strength and well-being.
ATTIKI Greek honey – classic, with its familiar, much-loved taste, consists exclusively of selected varieties from all over Greece and is a unique combination of wildflower, herbs, forest and thyme honey.
ATTIKI Greek Honey is exported to more than 37 countries on all 5 continents and has received international awards for its taste and quality, but most importantly of all, has stood the test of time in the affections of our customers.
Enjoy the delicious taste of honey at Christmas too!
For more information: