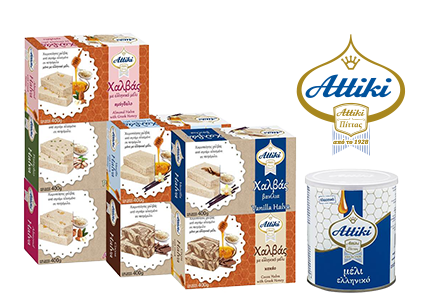 ATTIKI PRODUCTS ARE FOR LENT TOO!
At Lent, the most delicious treats have traditionally come from ATTIKI-PITTAS!
Attiki Greek Honey, carefully selected from the finest varieties of honey from all over the country, adds a touch of sweetness to your daily diet. It has all the flavour of a pure natural product that comes to your table exactly as it left the hive.
Attiki Halva is handmade to a traditional recipe from the finest ingredients, including stoneground sesame, and has a light texture and a wonderful taste. It comes in two different versions,
Attiki Halva classic in vanilla, cocoa, pistachio and almond flavours, and sugar-free Attiki Halva with Greek honey in vanilla, cocoa and almond flavours.
These two tempting options, which taste delicious and are nutritionally rich and healthy, come with the guarantee of quality and care of ATTIKI-PITTAS, which since 1928 has been bringing us what really matters.
For more information: