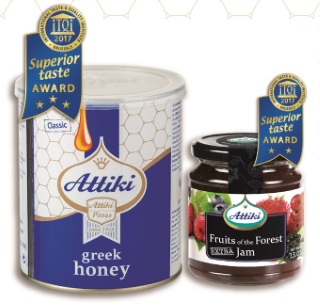 ATTIKI-PITTAS wins blind tasting accolades!
Superior Taste Awards for ATTIKI Classic Honey and ATTIKI EXTRA Jam!
The International Taste & Quality Institute (iTQi) has yet again bestowed its Superior Taste Award, one of the world's most important food prizes, on the ATTIKI Bee Culturing Company Alexandros Pittas S.A., this time for ATTIKI Classic Greek Honey and ATTIKI Fruits of the Forest Extra Jam.
The products were evaluated in a blind test by internationally distinguished chefs and sommeliers. This was the fourth time that ATTIKI Greek Honey had received three stars, an accolade reserved for exceptional products, confirming the high quality specifications and dedication of ATTIKI-PITTAS, a company that has been bringing Mother Nature's most precious gift to Greek families since 1928.
ATTIKI Fruits of the Forest Extra Jam received a two-star Superior Taste Award in the same process.  It is a jam without preservatives, with a great combination of fruits. Every jar contains pieces of strawberries, blackberries, blueberries, blackcurrants, redcurrants and black mulberries, and is the ideal choice for breakfast or a snack.
Once again, the unique taste and quality of ATTIKI products has achieved global recognition with an international award, confirming that ATTIKI-PITTAS, the best-known Greek bee-culturing company in the world, also has the highest standards.
You can also visit our official Facebook page:
www.facebook.com/AttikiHoneyInternational/