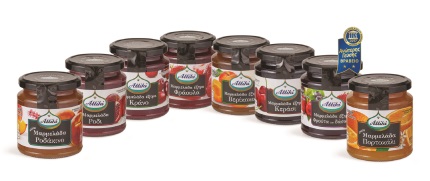 ATTIKI Jam. Enjoy 8 delicious flavours all year round!
Whether you're by the sea, on a balcony or in the office, no one can resist a big spoonful of jam.
ATTIKI extra jam offers a range of eight flavours for you to choose from, with whole pieces of fruit and no preservatives. Strawberry, apricot, cherry, peach, Cornelian cherry, pomegranate, and fruits of the forest* jams, as well as orange marmalade, make up a natural and delicious range of preserves for any time of day.
They are perfect for breakfast, give a fruity flavour to dessert, and will go down well in a refreshing cocktail this summer!
Don't delay – choose your favourite flavour at supermarkets now.
* ATTIKI Fruits of the Forest Jam received a two-star Superior Taste Award for 2017.
You can also visit our official Facebook page:
www.facebook.com/AttikiHoneyInternational/