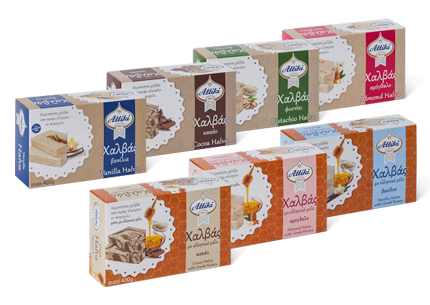 ΑΤΤΙΚΙ HALVA – HANDMADE TO A TRADITIONAL RECIPE WITH A TIMELESS TASTE!
This Lent, ΑΤΤΙΚΙ Halva will again play a leading role at the Greek table, as the number one choice for a traditional treat.
ΑΤΤΙΚΙ Halva is handmade to a traditional recipe, with a great taste and light texture, making it irresistible to young and old alike. It is made from the finest stoneground sesame, is a rich source of fibre and has proven benefits for the body. Rich in nutrients, it improves health and well-being, making it the best choice not just for Lent but all year round.
Enjoy it as a dessert or snack in two unique versions: ΑΤΤΙΚΙ Halva classic in vanilla, cocoa, pistachio and almond flavours and AΤΤΙΚΙ Halva with Greek honey in cocoa, vanilla and almond flavours. AΤΤΙΚΙ Halva with Greek honey contains no sugar at all but only the natural sweetness of pure AΤΤΙΚΙ Greek honey.
For more information: